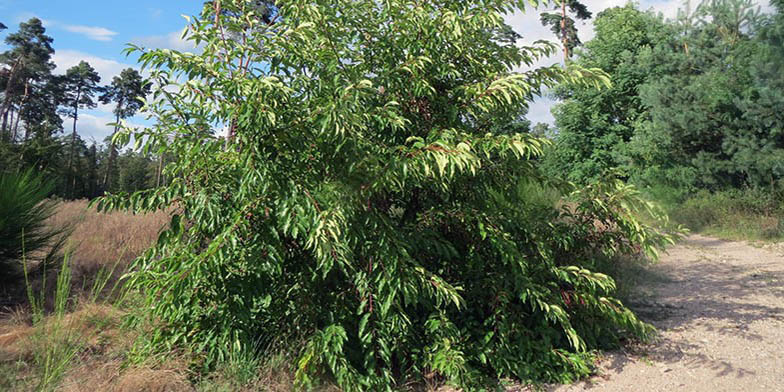 Prunus serotine
Black Cherry is a medium-large, wildlife-friendly, flowering shade tree. White flowers bloom in May, followed by small, edible berries. The fruit changes from red to black as it ripens in August-September. It is used for making wine and jelly. Fall foliage is yellow-red. Black Cherry offers much value for birds, butterflies, bees, and wildlife. It is a host plant for butterfly and moth larvae.
Prunus serotina is a medium-sized, fast-growing forest tree growing to a height of 50–80 feet.  The leaves are 2–5inches long, ovate-lanceolate in shape, with finely toothed margins.
A mature black cherry tree can easily be identified in a forest by its very broken, dark grey to black bark, which has the appearance of very thick, burnt cornflakes. However, for about the first decade or so of its life, the bark is thin, smooth, and banded, resembling that of a birch. It can also quickly be identified by its long, shiny leaves or by an almond-like odor released when a young twig is scratched and held close to the nose.